Symposium "Five years after Maidan: Post-revolution evolution"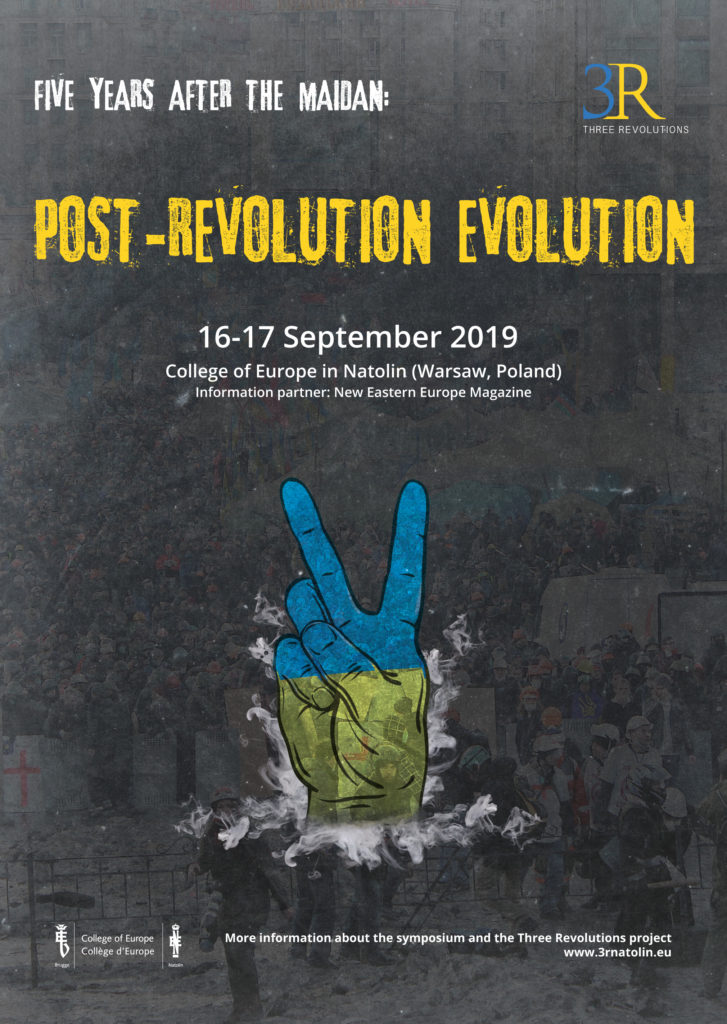 On 16-17 September 2019 the College of Europe in Natolin will host the international symposium titled "Five years after Maidan: Post-revolution evolution". The symposium will present the findings of the research project "Three Revolutions: A study of mass protests in Ukraine" (3R) implemented by the College of Europe in Natolin in partnership with such reputable institutions as the Kyiv-Mohyla Academy, the Harvard Ukrainian Research Institute, the Institute of Political Studies of the Polish Academy of Sciences, the University of Warsaw, the University College of London, Centre d'etudes des mondes Russe Caucasien et Centre Europeen (CNRS-EHESS), Paris and the Canadian Institute of Ukrainian Studies at the University of Alberta, among others. The project's academic publication, which includes a collection of source materials and an edited volume of original research material, will be presented during the symposium.
Participants of the symposium will include former and current members of the Verkhovna Rada (Ukraine's parliament): Iryna Vereshchuk, Mykola Knyazhytskyi, Oleksandr Chernenko, Mustafa Nayyem; as well as leading academics in the sphere of Eastern European and Ukrainian studies, including: James Sherr, Kataryna Wolczuk, Olga Onuch, Andrew Wilson and Yevhen Mahda; among many other leading experts.
Together with the Principal Investigators of the 3R project – Professors Georges Mink and Paweł Kowal – the symposium participants will explore the reasons behind the recent political developments in Ukraine and the role that the protests have played in the process of elite change, which is currently taking place in the country.
The content and media partner for the symposium is New Eastern Europe – a bimonthly journal published by the Jan Nowak-Jeziorański College of Eastern Europe in Wrocław.
The Symposium is open to the public upon registration. To register, please send an email to 3r.natolin@coleurope.eu.
More information about the project and the full symposium program can be found on the 3R project website: 3rnatolin.eu